7 DAYS of IMMORTALITY, ETERNAL LIFE & ANTIAGING in the EARTHLY PARADISE of BERCHTESGADENER in the BAVARIAN ALPS
Formation of the international Group of Aezoia
Berchtesgadener Land July 18-24, 2018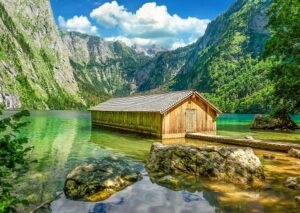 Join us in this unique spiritual and transformational life experience!
This summer, the School of Aezoia & Immortality  Hellas (Greece) is scheduling in conjunction with Better-World a 7-day Immortal Trip with the aim of forming an International Aezoia Group at Berchtesgaden of the Bavarian Alps.
Berchtesgaden Land is a true Paradise both in terms of beauty and high vibration. It is currently one of the most powerful places on the Planet with particular forces that favor biological, cellular and spiritual upgrading; a place of unparalleled beauty and high spiritual energy.
The tour includes: Yoga (every morning), workshops, nature walks with meditation and outdoor workshops at energy sites, DNA & Immortal Body Activations through Gong Healing sessions every night.
International Group of Immortality & Aezoia
After the 7-day intensive 12-Strand DNA Activation and High Spiritual Technology of Neuroscience Workshop with special exercises practiced out in nature and in places of power, the International Group of Aezoia & Immortality will form. This is a group that will continue its training in September of 2018 via monthly web-based tutorials (once a month, with coordination, meditation, spiritual guidance, exercises, etc.). Then, all members of the group will have the opportunity to meet on a 7-day trip to Berchtesgaden or in Greece once a year at archeological sites or elsewhere, organized by the School of Aezoia & Immortality. All details will be given at our meeting in Berchtesgandener Land.
Below is the Itinerary, as well as information about the workshop
12-Strand DNA: Full Activation &
Eternal Life Technology & 9 Gates of Immortality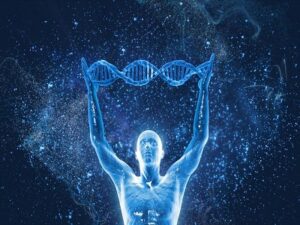 Workshop Description
12-Strand DNA: Full Activation
6 double activations will take place at the workshop, which involve:
Activation of the 1st Double Natural Creation Strand : cleansing, empowerment and special preparation for harmonic structuring of the new 12-strand DNA
Activation of the 2nd Double Etheric Perfect Health Strand: awakening of inherent self-healing, self-cleansing mechanisms  and transmutation of negative and environmentally infected energy
Activation of the 3rd Double Etheric Divine Consciousness and Intelligence Strand: awakening of emotional/mental /spiritual intelligence, expansion of consciousness and wisdom, improvement of relationship to self and overall.
Activation of the 4th Double Etheric Divine Recreation and Manifestation Strand: awakening of the ability to manifest the reality we desire and deserve
Activation of the 5th Double Etheric Eternal Youth and Vitality Strand: awakening of inherent cellular rejuvenation, anti-aging and life force Strand.
Activation of the 6th Double Etheric Eternal Life and immortality Strand: activation and awakening of the immortalization of the physical, emotional and mental body with the purpose of bringing strength, love and wisdom to all aspects of self and life.
Read an Interview by Dionysia Klarnetatzi on the 12-Strand DNA and physical Immortality
Workshop Description
Eternal Life Technology & the 9 Gates of Immortality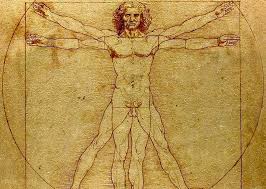 This is an amazing mystical and biological workshop that perfectly complements work on activating the 12-Strand DNA.
It includes:
Spiritual Anatomy
Secrets for Youth-Health-Eternal Life
Sacred Geometry of the Physical Body
the 9 Gates of Eternal Life and Indestructibility
Awakening the Codes of Indestructibility
Cleansing of the Death Program
Divine Body Archetype Coordination
The Great Mystical Meditation of Eternal Life and more
Read an interview by Dionysia Klarnetatzi titled "We are Immortal".
In the course of the workshop, we will enjoy special Yoga Exercises out in nature, exercises to awaken the Kundalini, as well as special Gong therapeutic sessions, which enhance the process of Great Change towards Eternal Life, Light and Immortality!
Creator and Teacher of Eternal Life and Immortality Techniques: Dionysia Klarnetatzi
Ιn Greeκ, with simultaneously transaltion/ interpretation in English
Day 1– Wednesday, July 18
The Greek Group meet early in the morning at the International Airport of Eleftherios Venizelos and depart for Munich. There we will meet the rest of the groups coming from other countries.
Departure by bus from Munich for Berchtesgaden Land.
Upon our arrival we will settle at the hotel.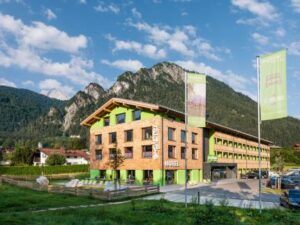 A relaxed Initiate walk will take place along the alpine lake of Hintersee which is at the entrance of Berchtesgaden National Park. This lake is surrounded by enchanting landscape, tall mountains, thick forests and it is situated on the boundaries of the National Park.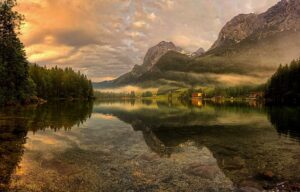 Our walk will continue into the "enchanted forest" (known as Zauberwald) along the river which at one point leads to a beautiful gorge.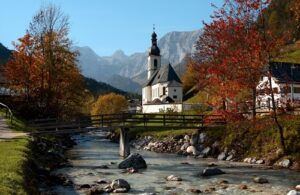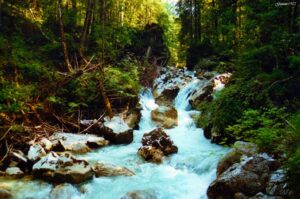 18.00: Return to the hotel and Dinner.
Workshop : 19.30-22.30
Introductory Eternal Life Lesson– Quantum Leap of Consciousness into Infinite Eternal Life and Entry into Immortality Energies
Day 2 – Thursday, July 19
7.30-8.30 Morning Yoga
8.30-9.30 Breakfast
10.00-12.30: Workshop:  Activation of 1st and 2nd Double DNA Strand in order to structure Eternal Life Consciousness
13.00 – Departure for Bad Reichenhall and, in particular, cable car ride up to Predigtstuhl, a mountain that towers over the romantic spa town, where we will have the opportunity for a lesson and a meditation in an isolated place with an amazing view. Return by cable car back to Bad Reichenhall followed by a trip to the picturesque town of beautiful gardens.
20.00 Return to the Hotel and Dinner
21.30 – 22.30 Gong Healing Session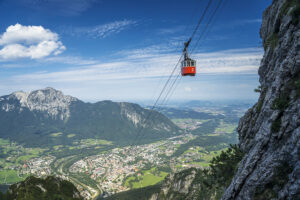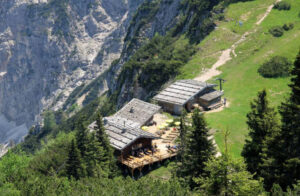 Day 3 – Friday, July 20
7.30-8.30 Morning Yoga
8.30-9.30 Breakfast
10.00-12.30 Activation of the 3rd and 4th Double Strand
13.00  : Boat ride on Lake Königssee, a breathtaking area situated on a beautiful beach.
The lake is considered to be one of the top destinations of the Bavarian Alps with pristine drinking water quality. This is an alpine fjord that comprises the largest part of the national park and it is approx. 8 kilometers long, 1 kilometer in width and approx. 180 meters deep. During the cruise on the electronic boat, we will stop at the echo wall where a crew member will play a musical piece on the trumpet, the sound of which echoes in the mountain and returns after a while. If the weather permits, we can swim in the lake.
View this Video
After the boat ride, an optional relaxing trip is offered for coffee/tea at the 15th century Church of St. Bartholomä, which was built by a royal Bavarian family.
Optional:
We can continue our short cruise towards the end of the lake, followed by a walk to Lake Obersee and the alpine valley of Fischunkelalm.
20.00 Return to the hotel and dinner
21.30 – 22.30 Gong Healing Session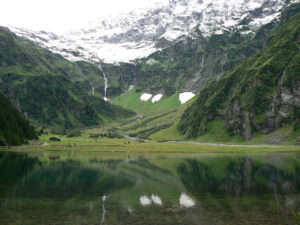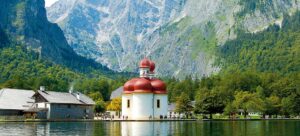 Day 4 – Saturday, July 21
6.30-7.15 Morning Yoga
7.30-8.20 Breakfast
8.30-11.00 Great Initiate Eternal Life, Immortality, Eternal Youth and Cellular Rejuvenation Meditation
11.30 – We will depart with our bus to Halstatt, one of the most unforgettable an idyllic part of Austria. We will take a boat ride on Halstatt Lake.
Nestled between the edge of Hallstätter, Austria's oldest and possibly most photographed village is something like a mirage in the Salzkammergut Lake Region.
There is so much to discover in Hallstatt and the UNESCO World Heritage region of Hallstatt Dachstein Salzkammergut.
Some of the most beautiful sights to see in Halstatt: The oldest salt mine in the world, the Salzwelten in Hallstatt, the cave worlds in the Dachstein Hiking World on the Krippenstein in Obertraun and the majestic glaciers of the Dachstein at lake Gosau. With its archaeological sites and scenic impressions the world famous holiday destination Hallstatt scores especially high with visitors interested in culture and nature. There, we can walk along its narrow streets and have lunch at a local restaurant.
20.00 Return to the Hotel
22.00 – 22.30 Gong Healing Session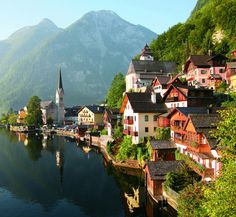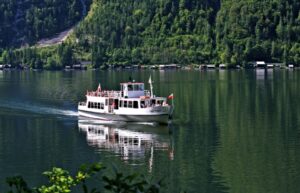 Day 5 – Sunday July 22
7.30-8.30 Morning Yoga
8.30-9.30 Breakfast
10.00-12.30 Eternal Life Technology and the 9 Gates of Immortality
13.00-19.00 Excursion
Departure for the foot of the Mountain of Immortality at Untersberg from where we will take the cable car to the top of the mountain. We will hike on a path (of average difficulty) and we will meditate on immortality at a special spot. Untersberg is a mountain of extremely high vibration and it is visited by spiritual seekers from all over the world for enlightenment, amongst whom is Dalai Lama. It is considered to be the Chakra of the Heart of the Earth and a number of paranormal activities take place there on a daily basis. During this workshop, our teacher and historian, Dionysia Klarnetatzi, will share mystical details about the mountain.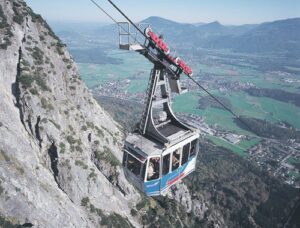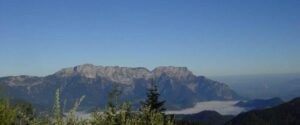 20.00 Return to the hotel and dinner
21.30 – 22.30 Gong Healing Session
Day 6 – Monday July 23
7.30-8.30 Morning Yoga
8.30-9.30 Breakfast
10.00-12.30: Activation of the 5th and 6th Double DNA Strand
13.00-19.00: Excursion
After breakfast we depart for the Berchtesgaden Salt Mine where we can relax in a special room by a pond and in an atmosphere full of beneficial salt. We will meditate accompanied by live relaxing music played by our inspired and famous musician, Paul Freh.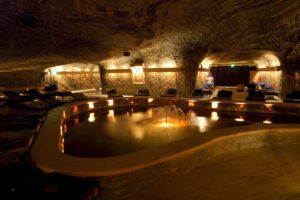 Then we will head for the centre of Berchtesganten where we will have time for shopping and a walk in the historical center.
20.00 Return to the hotel and dinner
21.30 – 22.30 Gong Healing Session
Day 7 – Tuesday, July 24
8.30-9.30 Breakfast
10.00-12.00 Workshop Wrap-up, Certificate awards and Formation of the International Group of Eternal Life & Immortality
12.00  – Departure by bus for Almbachklamm, an area known for its intense energy vibration and majestic waterfalls at the foot of Untersberg, the mountain of Immortality. Here we will practice the Cellular Rejuvenation Technique, since this area is full of negative ions which activate the multiplication of the organism.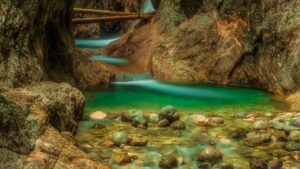 Departure at 15.00 for Munch Airport. Our journey comes to an end.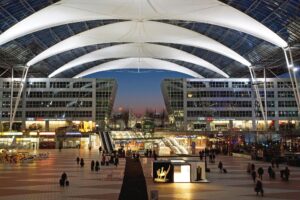 Have a taste of Eternal Life and Immortality by watching the meditation video with images of Berchtesgaden and places that will be visiting during our 7-Day Trip to Immortality.
You can contact at the form below to send you all information for registration.
Instructions and Notes regarding the Trip:
The weather in the Alpine region during the time of our trip is warm with occasional rainfalls. Depending on the weather, the order of our daily program may change without prior notification. This means that, weather permitting (based on the predictions of the day before) we will be deciding on the activity of the next day.
Clothing:
Preferably comfortable, sport and casual clothing. In certain places you will need long trousers.
A pair of hiking shoes (perhaps an additional pair in case the first pair get wet).
A pair of beach shoes (swimming costume, beach towel)
An umbrella or waterproof jacket.
A piece of cloth to lay on the ground and sit on.
A backpack for daily hiking trips.
Cameras are a must!
WiFi connection is available at the hotel.
We would like to inform The food menu for our trip will be Vegan.
The seminar will be Ιn Greeκ language with consecutive interpretation in English
For reservations please contact:
Theodora Papadonaki
mail: info@aezoia.com & info@better-world.gr
T: 0030 6936 527 527
Land line: 0030 213 043 9673